COO Journal: A walk down Savile Row
London is a great city. In fact, it is one of the few cities where I can return time and time again, and not get bored. Aside from being a financial powerhouse in Europe, London also attracts a significant number of tourists – all eager to visit the historic monuments and get some shopping done. Granted, most tourists flock to the stores on Oxford or Bond street, while others are lured by the luxuries on hand at Selfridges and Harrods.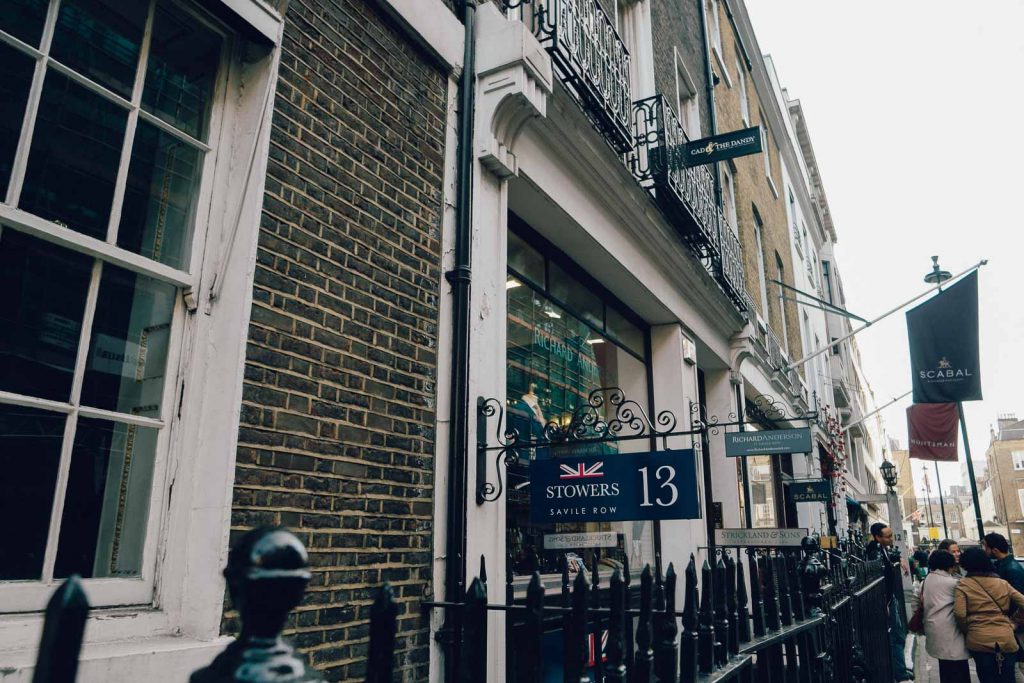 There is, however, a different kind of tourist that chooses to visit London – a sartorially minded one like myself.
My favorite stop. Savile Row, a famous street located in Mayfair, which many salivate at the thought of visiting. Myself included.
The history of why tailors took up residence here is blase, with many who started doing business in the area long before. They simply just migrated their storefronts to open onto the street.
Savile Row's reputation is built on bespoke tailoring, so it comes as no surprise that most tailors start perfecting their craft here. Others travel from all over the world for a chance at working in one of the shops, in the hopes they can bring home that learned expertise.
Andrew Ramroop of Maurice Sedwell, whom I admire a great deal, is no stranger to this story. He left his native Trinidad with a burning ambition to become a Savile Row tailor. He now owns and operates the shop at 18 Savile Row.
Sartorialists, haberdashers, and gentlemen with a love for bespoke are equally fond of this tailoring mecca. The Row is home to many tailors who have a particular house style, so it's best to do your homework on where exactly you'd like to visit – if you're considering actually commissioning a piece. I would suggest taking a care-free trip instead, focused on exploring each bespoke tailoring house and what they have to offer. Some offer a made-to-measure service as well as a ready-to-wear line alongside their core bespoke. This actually provides for a more affordable entry into the world of bespoke, making for a good "get your feet wet" approach.
Bespoke tailoring is quite expensive, so it is essential you are absolutely ready to start that intimate relationship required to creating your garment. The master tailor will want to know everything about your lifestyle so that he can craft the perfect piece for your wardrobe. And typical of bespoke, this may be your first but won't necessarily be your last.
Each successful commission will bring you closer together as friends, eventually morphing into a decades-long relationship established on trust and dedication. Such is the nature of bespoke tailoring. And that's what I'm here to explore.
I took a long walk down Savile Row, and spotted a few recognized names. Perhaps one of these renowned shops would be a good entry into the world of bespoke. For now, I just wanted to get a feel for the area and give one of them a chance to beckon to me.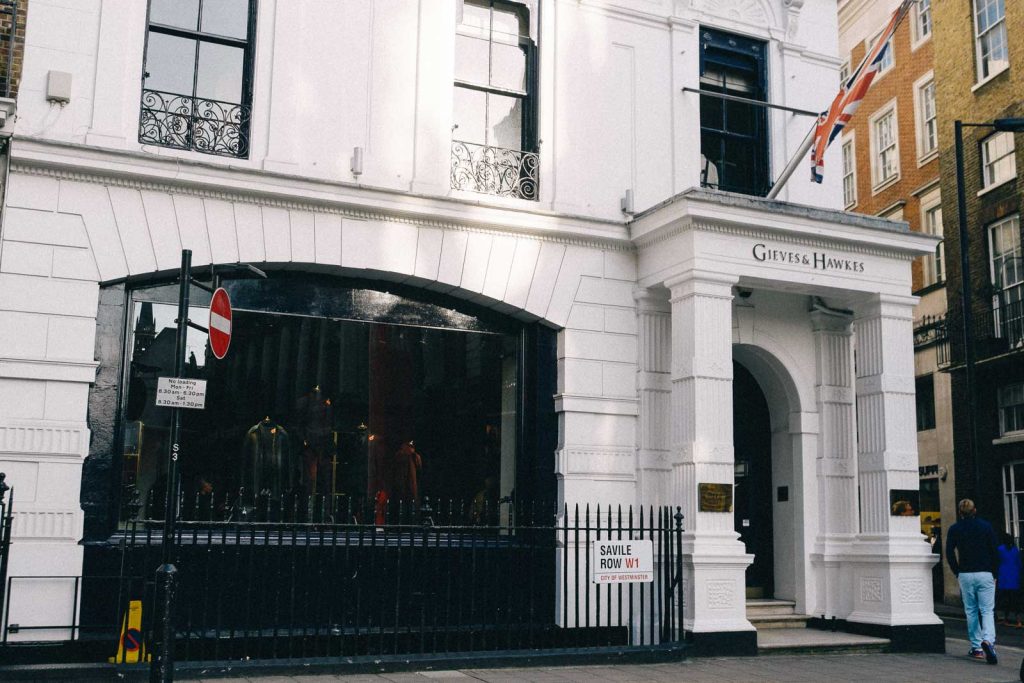 No. 1 Savile Row: Gieves & Hawkes
A Savile Row stalwart, Gieves and Hawkes is well known for its ready-to-wear collections, private tailoring, and bespoke. The diversity of having all three makes them a great shop to visit and get a sense of their capabilities. A must-see on your visit to Savile Row.
39 Savile Row: Gaziano & Girling
A relatively new addition on Savile Row, Gaziano & Girling are two shoemakers who came together to bring about a new look and quality standard in men's shoes. They offer a ready-to-wear collection, a made-to-order service, and full bespoke commissions. Their shoes are a beauty to look at, and hold.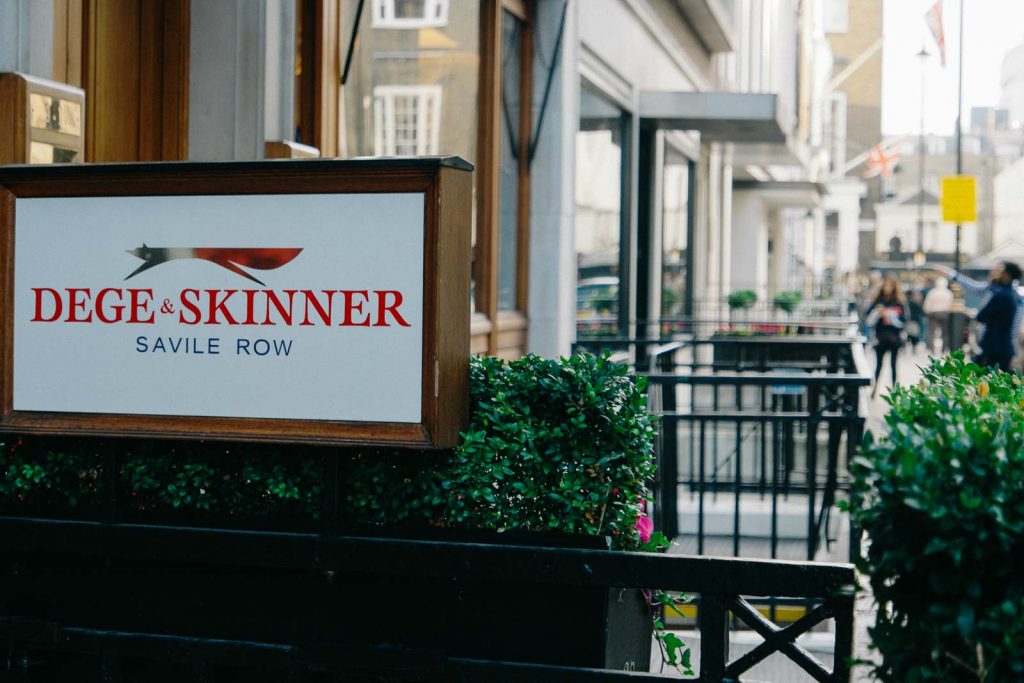 No. 10 Savile Row: Dege & Skinner
One of the oldest and continuously operated bespoke tailoring companies in the world, Dege & Skinner recently started a ready-to-wear collection consisting of suits and blazers. They also carry shirts and have a complete in-house permanent shirt-cutting service, where all their bespoke shirts are cut.
11 Savile Row: Huntsman
A Huntsman suit is characterized by its structured shoulders and high armholes, their house style essentially. Most recently, their wardrobe development for the movie Kingsman has given them a significant press boost. Aside from their bespoke and ready-to-wear collections in store, Mr. Porter carries the full collection on their webshop
12 Savile Row: Scabal
Scabal is world renowned for its fabric collection but they also are a manufacturer and retailer of men's suits, jackets and shirts. Although a Belgian textile company, they still produce fabrics for tailors in Huddersfield.
19 Savile Row: Maurice Sedwell
Purchased from the retiring Maurice Sedwell, Andrew Ramroop grew weary of the common use of the word bespoke and adopted the term 'Ultra Bespoke' to distinguish their service to customers. Their service is individually designed, hand-cut and hand-tailored to the highest standard attainable.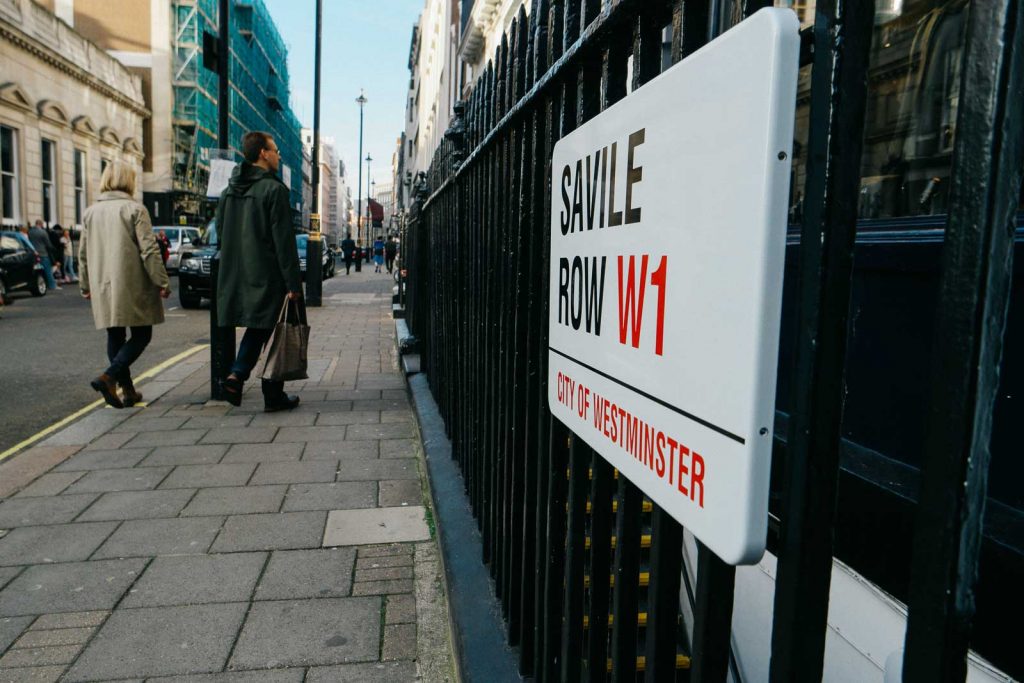 The Full List of Residents on Savile Row includes:
Gieves & Hawkes // Joseph // Kilgour // Hardy Amies // Alexander McQueen // Dege & Skinner // Huntsman // Scabal // Stowers Bespoke // Richard Anderson // Cad & The Dandy // Henry Poole & Co. // Norton & Sons // Maurice Sedwell // Chester Barrie // Welsh & Jeffries // Richard James // Oswald Boateng // Mark Marengo // Lanvin // Gary Anderson // Jeff Banks / Nick Tentis // Davies & Son // Gaziano & Girling // The Savile Row Company // William Hunt